Medium
Light Grey

Welcome to our one-stop hub for all Commerce highlights! In an ever-evolving business landscape, staying ahead of the curve is paramount. This is your go-to source for the latest news, trends, insights, and highlights from your Commerce team. Whether you're a local business, tourism partner, community leader, or simply someone intrigued by the dynamics of global trade, we've got you covered. Your journey to staying up to date starts here.
Medium
Dark Grey
September 21, 2023
Enhanced accessibility with new agenda additions

Join us at the Main Street ND Summit, where we prioritize accessibility, offering features such as a Spanish translator and ASL interpreter to accommodate all guests. By attending, you'll gain valuable insights into community building and development. This year's Summit offers a variety of tours focusing on art, culture, development, and energy, providing practical knowledge and memorable experiences. Special rates have been secured at The Roosevelt Hotel (40 rooms at $89/night, room block released on October 10) and at Teddy's Residential Suites (50 rooms at $97/night, with an additional 20 rooms at $88.20) Be sure to check the agenda for new events recently added!
Innovate ND Program open for applications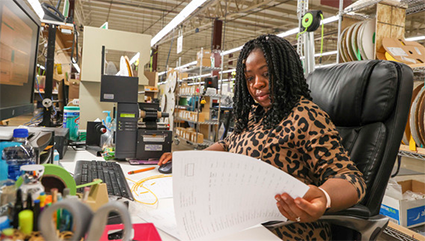 The North Dakota Department of Commerce is pleased to announce the launch of the revised Innovate ND grant reimbursement program designed to help North Dakota entrepreneurs further their business by supporting customer and market research.
"At its core, this grant reimbursement program is dedicated to fostering the growth of our entrepreneurial landscape and promoting economic development and diversity throughout the state. By offering coaching and financial backing, we aim to educate entrepreneurs on the principles of the lean business model canvas, refining their value propositions, and effectively identifying their target customers," stated Commerce Program Director Carla Valentine. "Our ultimate goal is to facilitate the development of new, innovative businesses with the clear potential to achieve primary sector certification."
Program participants are eligible for up to $22,500 in reimbursable expenses to be paid through an Entrepreneur Center.  There are two phases offering $7,500 and $15,000, respectively in reimbursable expenses.  The participant has up to three months per phase, for a total of six months, to complete all requirements of the program.  
The program is administered through four entrepreneur Centers:
The North Dakota Women's Business Center, Bismarck 
Jamestown Regional Entrepreneurial Center, Jamestown 
NDSU Research & Technology Park, Fargo 
UND Center for Innovation, Grand Forks 
Learn more and submit an application
Rural Food Sustainability Grant Program launches
The North Dakota Department of Commerce is launching the Rural Food Sustainability Grant Program, dedicated to boosting food access, sustainability, and economic development in rural communities. This program supports sustainable grocery services, food access, and the growth of rural food co-ops. These co-ops help aggregate, store, and distribute food in rural areas, addressing unique challenges.
"Commerce is committed to enhancing wealth and quality of life in North Dakota," says Emma Cook, Community Development Liaison for Commerce. "The program aims to strengthen local food systems, improve grocery supply quality, encourage local partnerships, support innovative solutions, foster rural community development, and promote economic collaboration." The program includes two components:
Component 1: Feasibility studies for food accessibility and expansion projects (up to $20,000).
Component 2: Grants for implementation of sustainable food access projects (up to $300,000).
The following outlines the timeline for applications and awards:
Applications opened: Sep. 8, 2023.
Applications close: Oct. 13, 2023.
Awards: Oct. 24, 2023.
Component 2 will be opening in early 2024.
Eligible applicants include nonprofits, local entities, economic development organizations, and tribal entities. The program focuses on communities with a population of less than 10,000 and encourages but does not require matching funds. Regular maintenance funding is excluded, and projects must enhance food access with a sustainable plan.
2023 ND League of Cities Annual Conference: fostering innovation, collaboration, and community growth
The 2023 North Dakota League of Cities (NDLOC)  Annual Conference, held at the Bismarck Event Center from Sep. 20-22, serves as a platform for city leaders to exchange ideas, partake in workshops, and connect with businesses serving municipalities. The conference features key sessions on North Dakota's industries, economic development grants, Renaissance Zone program updates, and resources for arts, tourism, and workforce recruitment. 
Commerce appreciates the collaboration with NDLOC and the opportunity to provide information to community champions at the annual conference. This work cannot be done without communities and community members and organizations like NDLOC who serve as a trusted voice and collective partner.
Workforce Development Council celebrates Dave Farnsworth's 12 years of leadership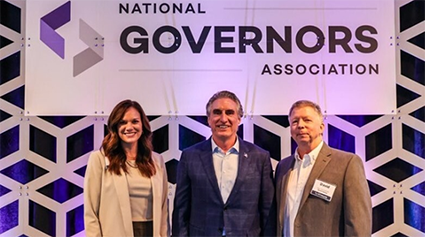 At their recent meeting, the Workforce Development Council (WDC) honored Dave Farnsworth for his outstanding 12-year tenure as Chair of the WDC. They presented him with a commemorative clock in recognition of his dedication to serving North Dakota and devising workforce strategies. Dave, appointed by Governors Hoeven, Dalrymple, and Burgum, has been a steadfast advocate for our state's workforce system. We deeply appreciate his leadership and wish him success in his future endeavors.
Walker collaborates with tribal communities at 2023 Tribal Leaders Summit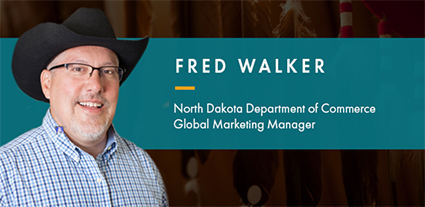 Commerce Global Marketing Manager Fred Walker recently moderated a panel at the 2023 Tribal Leaders Summit in Bismarck. The panel, "Experiencing and Educating our Traditional Lands in our Own Ways," highlighted the importance of nurturing the tourism industry from within Native communities. This approach empowers Native people to share their own stories, ensuring they're told authentically from their own lands. Additionally, Fred hosted international media at the United Tribes International Powwow, working to showcase North Dakota's rich Native experiences to a global audience.
Tooke named among Bismarck Mandan Chamber EDC class of 2024
North Dakota Development Fund CEO Jessica Tooke has been chosen as one of the 15 professionals and emerging leaders for the Bismarck Mandan Chamber EDC class of 2024. Her dedication and leadership have earned her this well-deserved recognition, and we're eager to see her continued success. Congratulations, Jessica!
Cook chosen for Rural Leadership North Dakota 10th Class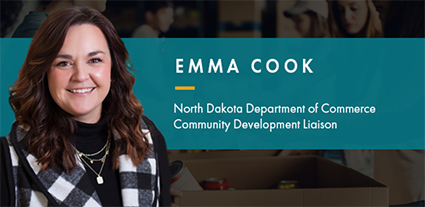 We're excited to share that Community Development Liaison Emma Cook has been selected for the 10th class of Rural Leadership North Dakota. We have no doubt that Emma will excel in this new endeavor and bring valuable insights back to our communities. Congratulations, Emma!
Medium
Commerce Newsletter is the bi-monthly e-newsletter from the North Dakota Department of Commerce.
*To receive targeted industry updates, please check the specific industry box during sign-up.